How I funded my start-up business
Created by Suzy Jackson, 16th February 2017
8 MINUTE READ
---
David Copple is the mastermind behind Sunderland-based software company and app Shine. After leaving his job, David combined revenue from client development work and personal investment to turn his business dream into a reality. Here he shares how he financed his start-up business…
David Copple left his job in January 2015 to set up a brand-new video interviewing app aimed at transforming the way businesses recruit.
Shine is a platform used by hiring companies which enables candidates to record answers to pre-set questions by downloading a free mobile app and completing an interview in their own time.
Responses can then be accessed and assessed by the hiring manager, meaning interview panels can evaluate people's performance individually, without having to block out time for face to face meetings with a group panel.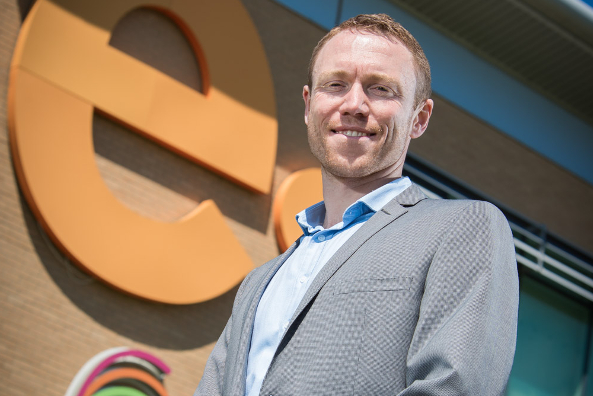 Previously a board level director at technology business The Test Factory, David was inspired to make the app after becoming frustrated with the often time-consuming process of managing diaries to agree interview days, and hours spent interviewing unsuitable candidates when the shortlisting process failed to rule them out.  
"I left my previous role in January 2015 to set up Cornerways Consulting, which was initially used to fund development of Shine by bringing early revenue into the company via client development work and consulting," David says.
"Alongside personal investment, this allowed me to fund initial development of our own platform."
Having already built up a substantial network due to his previous experience, David was lucky enough to have developed connections with a range of potential funders, but still had to prove that both his idea and business model were worth backing.
"The initial decision I had to take was whether to take on external funding, or try to continue being self-sufficient through client work, whilst Shine gained market penetration," he says.
"In the end, I felt that additional funding would help to propel our development, and especially our marketing and sales efforts forward more quickly, ultimately achieving our goals in a shorter time frame.
"The funding also brought in external expertise, allowing me to build a strong board of Directors, and opening up contacts at a strategic level."
By choosing outside funding, the team could focus all their efforts on Shine.
After speaking to several potential investors, David and the team settled on venture capital firm Northstar Ventures.
"Once I had made the decision to take on external investment, I wanted to move relatively quickly to capitalise on our opportunity, and fortunately, Northstar were able to work with me to achieve that.
"The process itself involved many presentations, both to James, my investment manager at Northstar and a wider investment team.
"This included running through the platform and explaining the market opportunity. At each stage I would relate this back to a cashflow forecast, backed up by a set of provable assumptions.
"Alongside the platform, it is important to be able to demonstrate a strong management team, and importantly, that the business is scalable."
However, as David points out, it is important to manage your time wisely - the process of securing funding means a lot of documentation and figures which need to be carried out alongside the day job of running a start-up company.
It's also important to consider all the options available.
"Different investors may be more suited to you depending on the stage of your company," he advises.
"Try and speak to as many people as possible, and remember you need to be able to work together moving forwards.
"Also consider that as a start-up, it is highly likely that at some stage you may need to consider additional funding beyond a seed-round, so look at their history of follow on investment and how likely they are to support you.
Raise as much as you can, as product development and sales all take longer than you think. At the point of investment, you need to be thinking in terms of a 12-month runway.
"Finally, make sure you find a good mentor, who can challenge your assumptions and validate your business model. It always helps to talk to somebody externally who is not involved in the day to day running of the company."
---
Created by Suzy Jackson, 3 years ago, [last edited 2 years ago]
---